How old are you?: 19 Years old.
What is your account name?: Fujiwara Datsik
Why do you want to join the Advisory team?: I would like to be a community helper to contribute to the server. I have been noticing that the newer generations of players, especially those with poor English skills, have not been as knowledgeable. I would like to help out the new players and make them into better players. I would like to help these new players become better role players and players in general. I feel that if the newer players know the server rules and how the server works the server will be much more enjoyable for the players who do know what they are doing. I want to make the community into a better, friendlier and smoothing running community. I also would like to be a part of the staff team or maybe even a moderator one day. I feel that Community Helper is the best place to start. I love this community and I would like to give back to it for the good times its given me.
What benefit would we have in choosing you, over someone else?: I think you should pick me and not any other applicant because I am a very active player and I know many of the server rules and offenses. I also have a very good understanding of the way the server scripts works. I think you should pick me because I am also willing and able to be on duty whenever needed.I am excited about maybe becoming a community helper and I am not just doing it for the tag of being a community helper. I feel that you should pick me over any other applicants because I will always be available to answer help requests while ingame, I will be helpful to the members of the FG:RP community and i will make their experience on FG:RP better and more enjoyable. I feel that you should pick me over the other Community Helper Applicants for these reasons listed.
Have you been a staff member on any other game server(SAMP, or something else): Yes i am from NGG.
How long have you been playing FGRP?: I think 3days.
What is your time zone (GMT), and average hours online?: GMT 8+
Where are you from?: Philippines
Screenshot of your /stats: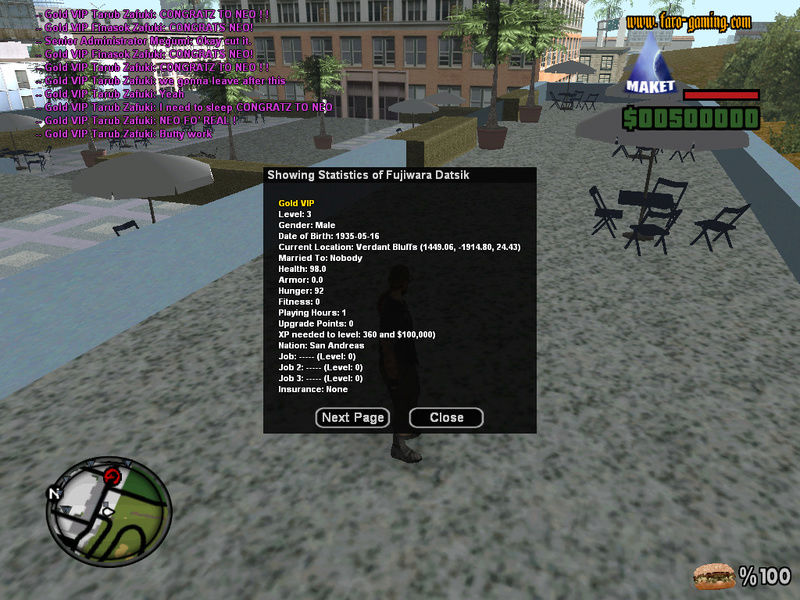 Referral: None
(Post a screenshot of how many words per minute you can write min 55):
N/A